Rss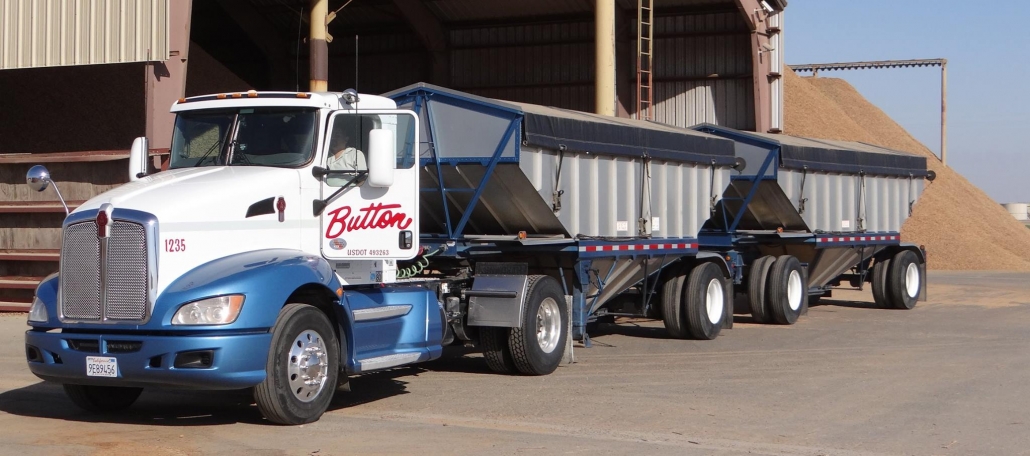 Today's job of the day comes from Button Transportation
Button Transportation is a family-owned and operated business in California and has been thriving for over 40 years. Their fertilizer and harvest transportation work is the backbone of their business. At Button Transportation, "we help farmers reap what we help them sow."
Button is currently hiring CDL A Seasonal Local Double Hopper Drivers in Merced, CA and Dixon, CA. As a seasonal driver for the agri-business support team, you will deliver Almonds during the season that is typically 3-4 months.
When the season ends, other employment opportunities may be available.
We promote from within and encourage long term employees.
In the event, no opportunities are available, you will be eligible for unemployment benefits with Cobra.
Highlights:
No touch freight
Paid orientation/training – Full day in classroom
Shift/Schedule – Typical work is sun-up to sun-down. Rare night work.
Seasonal drivers average $800 – $1,600 per week. Motivated drivers can make more.
Paid weekly via direct deposit – 25% of each load; percentage increases each year of service
Number of loads 1-12. Average is 4-5 pending on customer
Reliable home time every night
Medical, dental and vision benefits effectively starts after 30 days
401K program with 50% company match up to 10% of paycheck
$100 Driver Referral Bonus Program
Experience and Qualifications:
Class A CDL
New drivers welcome
Endorsement: Doubles/Triples required
Good MVR and safe driving record, including no BACs, DUIs, DWIs, or license suspensions for moving violations in the past 5 years
Ability to meet work attendance and availability requirements and pass all CFI certification class testing and requirements
Have legal right to work and live in the United State
Button will hire out of school! Given their highly diversified service offerings, entry-level drivers can expand their skills throughout the year. There are opportunities to carry a variety of products with different equipment to accelerate your career.
Button offers great benefits, competitive pay, and a wonderful company culture.
Why drivers love working for Button:
Johnny Green
"I started working for Button the day after I obtained my CDL. It's very difficult to find a good job when you're new to the industry but at Button I found a GREAT job and was welcomed with open arms and treated with respect."
Eduardo Felix
"From day one it been great, wonderful people and staff to work with. Bob Button is a class act, active, interested owner that is only a phone call away. Dispatchers Dan, Gene and Jeff are the best. Highly recommend company to work for."

Interested in applying?
Learn more about the job requirements, benefits, pay and more.
The post Job of the Day: Button Transportation appeared first on Drive My Way.